Hello again my sweets,
I'm really sorry I didn't post last week, I wasn't feeling to great at the start of the week then I've been in London for the last couple of days so I've had to combine 2 weeks together.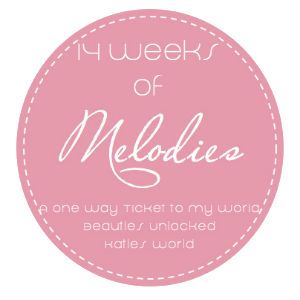 Welcome to a new blog hop & an exciting challenge.
The name of this game is 14 weeks of melodies. This blog hop will take place every TUESDAY.
The game will run from October 1st, 2013 through December 31st, 2013.
There will be a PRIZE for grabs at the end of each month.
On December 31st there will be a GRAND PRIZE for the blogger that was able to complete this challenge for all 14 weeks! :)
1. Pick a song that represents you or represents your mood this week
2. Share with everyone why you picked this song.
3. Grab our button to post it on your blog so others can join in :)
4. Link up your accounts. Each link up will count as an entry (blog, bloglovin, twitter, etc)
Disclaimer: In order to win you must be following your hosts.

For week 6 I have picked Little Comets, I feel in love with this band when I met them at Culture Shock around 7 years ago! They were just the nicest lads and I remember dancing around in the crowd to this song :) I love all their songs and hopefully seeing them again next February which should be amazing!!
For week 7 I have chosen London Grammar, my flatmates are in love with them and have started getting me into them more :) also thought as I have been in London the past couple of days it was be good timing to add them in now :) really enjoyed listening to their music and getting more into it!
Both bands have done so well to take off and really hope you enjoy listening to them
Thank you for reading, Bye :)