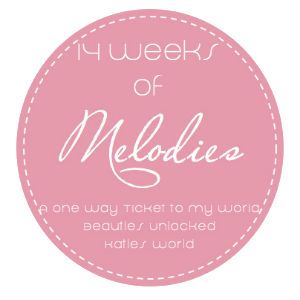 Welcome to a new blog hop & an exciting challenge.
The name of this game is 14 weeks of melodies. This blog hop will take place every TUESDAY.
The game will run from October 1st, 2013 through December 31st, 2013.
There will be a PRIZE for grabs at the end of each month.
On December 31st there will be a GRAND PRIZE for the blogger that was able to complete this challenge for all 14 weeks! :)
1. Pick a song that represents you or represents your mood this week
2. Share with everyone why you picked this song.
3. Grab our button to post it on your blog so others can join in :)
4. Link up your accounts. Each link up will count as an entry (blog, bloglovin, twitter, etc)
Disclaimer: In order to win you must be following your hosts.

So the first week...this was a hard one because I wanted it to be either a song about me or one of my personal favourites!
I moved back to university a couple of weeks ago and people that know me will know I am a home bird and get really homesick when I first move back to university so the song I have picked has a couple of meanings. This is mine and my dads favourite song and every time I listen to it it reminds me of him :) its quite a depressing song however I love how meaningful it is and how it really does make you think about life.
My first song is from the 'Flaming Lips' and its called 'Do You Realise??'
I did my whole final art piece on this song in year 11! If you have never heard it go check it out and listen to the lyrics :)
So that's week one, I hope you have enjoyed my first song :) I'm excited to see this project develop and see what everyone else picks :)
So here you have it ladies n gents, let's see who can do it for all 14 weeks straight ;)
Thank you for reading, Bye :)